Parents and carers in the performing arts sector are facing the double hit of devastating financial instability and career uncertainty as well as home-schooling and managing caring responsibilities. The resilience shown by our industry, both to support its workforce and ensure survival, has been exceptional and is testimony to its capacity to innovate. Entire offices have been moved to kitchen tables, critical strategy meetings and rehearsals are taking place over Zoom, premieres of world class productions launched online and all whilst co-working with children and catering for ill or elderly relatives.
Overnight the whole sector has had to adapt to new ways of working, find flexibility and confront work-life balance like never before. When the time comes to rebuild our creative landscape, this period will have given us all a taste of alternative ways of working that we can learn from as a sector in order to evolve and grow and create a more resilient sector inclusive of carers and parents.

Here, some of PiPA's Ambassadors share candidly what life in lockdown looks like for them...
---
Rakie Ayola: Actor



"At the time of writing Covid-19 hasn't impacted in a serious way on the health of any of our family or close friends and for that we're extremely grateful. Every day we realise how fortunate we are. Some of our friends have lost loved ones and we see how painful it is for them to have been nowhere near their loved ones when they died and to have instead been part of a small, socially distanced funeral. When this is all over, expect thousands upon thousands of memorial services to happen in quick succession.
I am fully aware of how fortunate we are. Thankfully my husband, two daughters and I like each other's company so being together all day, every day isn't a hardship. That's not to say we spend every second of every day playing board games, but we're not chomping at the bit to be somewhere else.
Having school age children does at least give some focus when we need it. Having tried home schooling once before, I know that I have moments of useful insight and creativity followed by bum numbing boredom and frustration that I'm unable to teach something I know, or (worse still) can't understand a word of something I need to teach."
---
Jonny Cotsen: performance artist, facilitator and consultant
"My tour, facilitation and training have all been cancelled so I have not worked since Boris made that 'announcement'. Instead I have adapted to be a dad full-time. Our second child arrived on 15th February so my partner Lou is on maternity leave. She is really grateful that I am actually here supporting her and our two children. Throughout March to May I would have been touring across Europe and some parts of the UK - she understands it is work but things have changed completely. Our only financial income is coming from my partner's maternity pay. In regards to the cancellations, I don't get anything as it's a Force Majeure situation (exceptional circumstances) so it's been tough. I actually really enjoy spending quality time with my family, watching my two children grow. Something I haven't done since becoming freelance three years ago.
There are loads of challenges! Fortunately we have a system in place where every night we write a 'lesson plan' or a structure for the following day and we try to stick to it because it is really important for Tilly (my eldest) who is three to have a routine. We have good days and tough days but we are quite lucky that Tilly adapted to this new way of living (but I am sure she would want to spent time with her mates instead of us!). I have just converted the spare room into an office space which is great but not yet finding the time to do the work. I don't know how any freelance parent can work and home-school their kids at the same time. Answers on a postcard please!

Looking forward, I think the influx of doing work online could be the new norm so there could be some flexibility for parents to do more work at home. For example, I spend quite a lot of time travelling to meetings/training across Wales and perhaps, given the right access I could do this remotely from my home."
---

Federico Bonelli: Principal Dancer - The Royal Ballet, PiPA Board Director

"We are doing daily ballet class in our kitchen and (my partner) Hikaru is teaching remotely on Zoom. Our daughter's school has sent tasks to complete and suggested timetables, which is a great help, and yet I have felt inadequate as a teacher. I feel that we are actually doing ok, and the extra time spent with our daughter has been wonderful. It has also been a stressful time, and I often get to the end of the day with the feeling that I didn't do the things I needed to do. I wasn't 'working', and yet, it was a full-on day...
The anxiety I have, slight but present, is about the future in general. How long will this situation last, how will it affect us, economically and otherwise, and how will it affect my daughters schooling.
All of that is stressful, but honestly, I think we are dealing with it ok. We are lucky in many respects. We are healthy. Our families are healthy.
What is helping me is this idea to keep moving forward towards a general objective, without focussing too much on the details of the moment. Right now, the general sense of travel is more important."
---

Emmy the Great: writer, composer and performer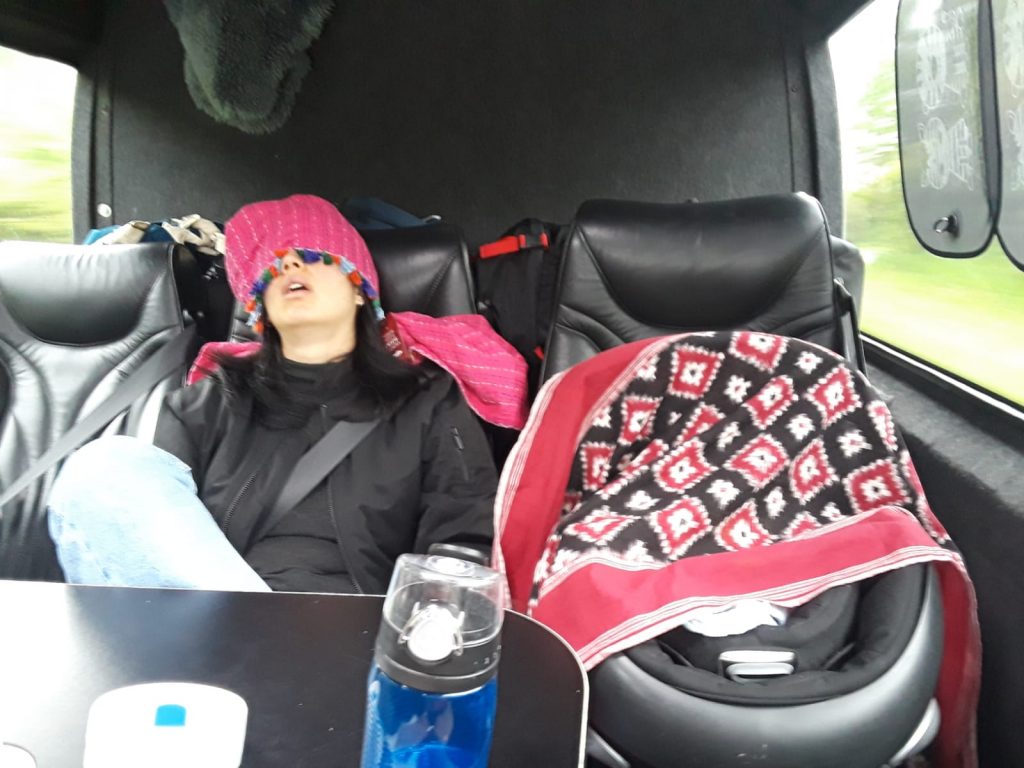 "Parenting in lockdown gets a little easier every day. My partner and I are at home with our one-year-old and have evolved a schedule that allows the other to work for a few hours at a time. We're kind of on top of each other so some things, like answering emails, are easier than others, eg recording music, which takes up more space and requires equipment.
At the moment work is centred on projects that I had before lockdown began, and I'm not seeing much new work on the horizon. With our home set-up, there's very little time or mental space available to pitch for new projects, but like everyone else in the world, I'm trying to roll with the situation. I'm thinking about how I can diversify my work, budget more, and also trying to allow myself and my family space to process what's going on.
A lot of musicians have been touching in with their audience, doing online shows and releasing new material etc, but I haven't quite got the faculties to do that right now. I hope to be able to eventually. For now I just feel really grateful to be safe with the people I love, and I trust that I'll be able to get back to work slowly and surely.
I think the industry has the potential to draw positives from this situation. For example, we could hold on to the practice of online gigs beyond lockdown. It has potential to provide a path for new artists who have yet to open doors to big festivals for example, and would like to organise their own in a manageable way."
---
Kate Varah: Executive Director - The Old Vic
"Working and parenting during lockdown has been both deeply challenging and oddly refreshing. This is despite the fact that we're incredibly lucky - with a garden and enough rooms for us to all be independent in. But we only have Wifi in one of them so my husband and I, both working full time, together with our three boys, barter for time online, from Skype and Zoom calls delivering staff and Board meetings to online school learning and music lessons. Trying to conduct an All Staff Zoom team meeting for 90+ with a cello lesson going on in the background has been interesting. We've had to negotiate hard over whose work comes first, between us all, and when to push forward and when to recede. It's been difficult in many respects but we're getting into a pattern now and managing to make it work. There has been very little time amidst it all to read, which sounds odd in a period of isolation. Isolation with children perhaps takes on a different tenor (the problem feels more like lack of isolation).
On the upsides, the unexpected joy has been being forced to step away from the screen to take them for a walk each lunchtime. Usually at work I don't break, and this routine has given not just the children but me too valuable headspace. This is added to being able to put them to bed each night, which rarely happens in the steady state at the theatre. I don't think I'll forget the unexpected chance this period has given me to spend time with them. The downside is that I work most nights until late to catch up on the daytime hours lost; but I've found a pattern that works for me.

Of course it's interesting when overlaying my own experience with the way we work as a wider staff group at The Old Vic. Can elements of this way of working be continued when we are able to return to the building? For us at The Old Vic, it's not so much about an increased opportunity for flexibility and home working - all of our staff with caring responsibilities have those opportunities anyway. But what could be interesting is how this affects our practice more generally. The heartening outcome of this period has been seeing how resourcefully everyone has responded to working from home. Could it be that by holding regular Zoom or Teams meetings for the whole workforce, regardless of specific caring responsibilities, we will remove any sense of those online sessions being set up to accommodate difference - but instead become the norm. We'll see. It's an interesting provocation to consider on my next lunchtime walk."
---
Anna Fleischle: Production Designer
"Since the schools closed followed by the lockdown I have been mainly in our house in East London together with my husband, my 16 year old daughter and my 12 year old son. My husband is a TV camera man - all his work has been cancelled, my shows have closed and all future projects are either postponed until 2021 or hanging in the air.
My daughter, who is in year 12 at BRIT School is luckily very independent when it comes to school work and has been working on her final project. However as the weeks go on she is finding it harder and harder to be inspired and without tutorials and working with the other students it is so hard to keep motivated and not to get lost. My main work with her is to keep her balanced, to catch it early when her mind goes into a dark place, to take her out for a cycle ride when I can see that the walls are closing in.
The homeschooling for my son is more work intense - but luckily my husband has been taking on most of it to free me up for the little work I still have. My son is a very physical boy and for him the lack of movement has been the main struggle - his body is screaming for daily runs and tackles.
The first days - if not to say weeks - I was conscious of the shock that going into this situation really is to our systems. To our mindsets, our sense of orientation and balance. As a freelance designer I have always been very aware of how fine the balance of our human psyche is. I think that most of us need a sense of regularity, of pattern and rhythm in our days and weeks. It is this which gives us a foundation, a ground zero that all else comes from and to which we can return if needed. I always feel that this is what then frees me up as an artist to let my imagination flow - to create and which helps me to deal with the irregularity and intensity of the work that we do.
The very sudden disappearance of our entire work environment throws all this in a way that I never thought possible. You are literally thrown back to the question of 'who am I, if I can't be a designer?'
I think what makes it hard for us working in this industry is that we ARE what we do. This is what defines us. We don't go to work and when we are home do what it is that we love doing - everything we do is who we are - all day every day. Take that away and we are shaken to the core.
I have lived through several very traumatic events in my life and what that has taught me is that you need to tackle these hits immediately and front on as soon as you are physically capable to do so. I have tried to do this with the lockdown too. One of the worst feelings I think we can have as a human being is that of being powerless - not having control over what is happening. But the truth is - that in every single one of those moments - even in a loved ones death - we still have some version of control, some choices we can make. There are still many things we can decide on. 'How do I let this effect me?', 'will I let this change who I am?', 'within the restraints of the situation - what are the things I can still do which have not changed?'. I was heartbroken about a lot of my work which has simply disappeared from sight - some of it to never return again. At first I was not sure what else there could be. But in return I now have hours I can spend which I would not have had otherwise. Hours with my children, catching up with friends, learning new things to do with my work that I usually don't have time for. Training myself with new skills through online tutorials. So far I have shaped my days around these things - which somehow also feel like a preparation for when this is all over, which in return gives me a quiet but constant sense of future - the thing I long for most.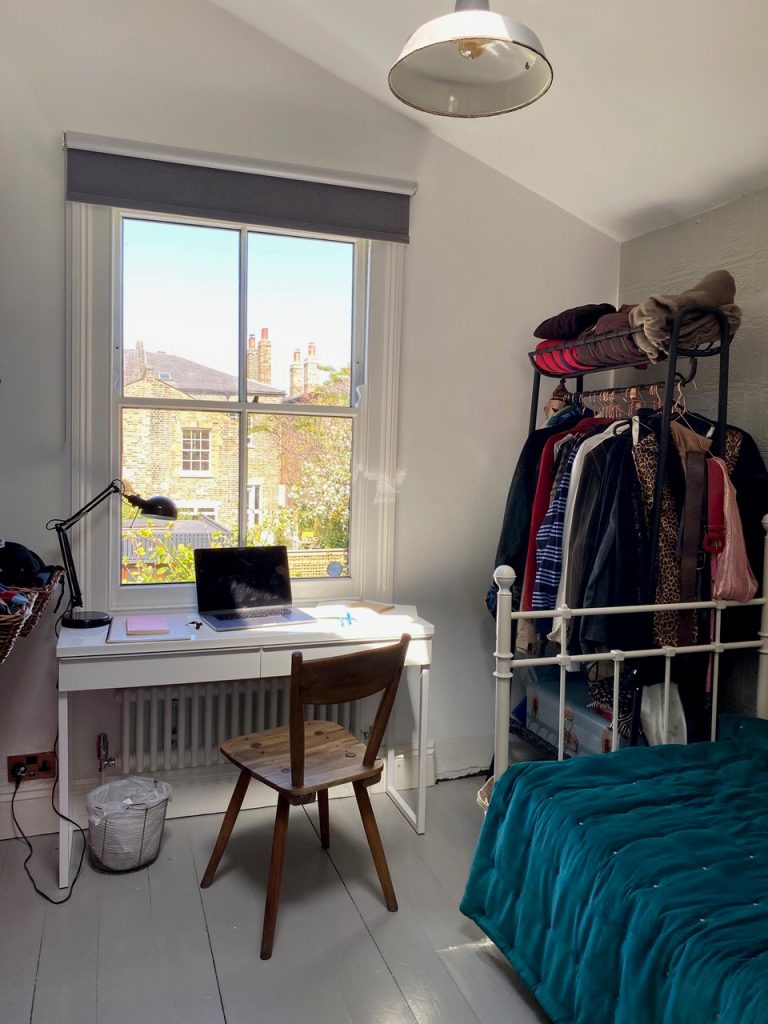 When worry hits me I try and steer my thoughts away towards the things I can do.
If anything I would like to come out of this lockdown more rested, filled with the hours I have spent with my children, with things organised and some new skills learned to approach the life after the event prepared, balanced and ready to continue shaping the unknown into what will hopefully be a world more conscious of what is truly important.
What this time also has reminded me of however, is how dependent - as a designer - I am on theatres being open, giving me a job, building my sets. That dependency means that when the theatres are gone - I can't work. However, my skills are many and wide. I have been thinking back to the time before I was a working designer. Maybe finding some other routes of working without that dependency - even if it is only a side project is a wise thing to do in the future. There are so many things all of us in the performing arts are capable of - spreading our talents a bit wider can only be a good thing.
When I look at my children I feel mainly sorry for their loneliness. Children generally are so incredibly good at adapting to situations especially if you are able to do so yourself - but they miss the company of their peers, the activities with them and the closeness, the chats under the duvet at a sleepover.
Our world is once again too focused on success, achievement, coping and staying in line. The running and competing of the previous social world transferred to your home. Who is the best at homeschooling and doing your job whilst working from home? We need to allow ourselves to shape this time in whatever way works best for us and our family. We need to judge it on the personalities and character traits of the family members we share our home with. We are all individuals and our differences will be heightened in times like this and need to be allowed to cope and get support in their own particular ways.
What I think we need to concentrate on with our children - far more than whether they do their maths or spelling - is to talk to them about what is happening and why. How they feel and think about it. How they can shape their days, engage with their friends, make some kind of sense of it all. Afterall, when they look back at this time in years to come, they will not remember the maths sheet they were working on - it will be the things you did together, the feelings they had, the moments that were good. This time is not for school work - it is for shaping the memories of a world in fear and lockdown and how we overcame it. How this changed our perspective on things, our behaviour and so much more and how in some way - once the world re-boots - we should take those new insights and changes to re-shape our lives."
---

Lucy McCrudden: Dance Mama

"Parenting in lockdown looks like beautiful chaos! I have two children aged 3 and 7 and a husband who works full time. Dance Mama is me, so as the concerns over COVID-19 were coming, looking at the global trend, I decided to scale back fairly early as I could see what could happen (and has now happened) in response to the situation. As soon as the schools/nurseries closed I felt I had no option but to 'second' myself to going into full-time 'Mum Mode'. I felt this was the best approach in the emergency, as I'm a firm believer of keeping my personal energy well topped up to support my family. I also want to make sure I bring the best energy to my work when I am able to return to it.
My biggest challenge has been finding time to work. As much as I accept the choice I have made by scaling back, there are still things that need to be done, or that I yearn to do. My husband works full-time as Head of Marketing for a global tech firm, which is ordinarily demanding, long-hours and his schedule changes moment-to-moment. This has meant for the past 4-5 weeks I have only had a few snatched hours here and there - I usually work 3 days a week. It's quite a gear change.
It has meant I have had to be really focussed on what is absolutely necessary. Primarily, this has been refreshing and reminding my audience that I curated an online class programme (as there are parallels in lockdown and being a new parent!) for them to workout at home (www.dancemama.org/class-programme). Interviews and case studies are key for me too, and receiving the invitation to interview staff who are parents on the team at New Adventures was a real privilege (www.dancemama.org/new-adventures) as well as releasing #dancepapa Phil Hulford's story (www.dancemama.org/phil-hulford). I'm working on more interviews and content to come highlighting previous and current stories of parents working in dance.
The second biggest challenge is finding the energy to create, compounded with our youngest child waking 1-3 times per night. Again, not unfamiliar territory for parents, but absolutely magnified further in this pandemic.
Thirdly, a lot of Dance Mama is already online, and as a lot of companies rightly pivot to this method, the cut-through to audience is going to be even more tricky as there is a lot of 'noise'. Eventually I think this will start to become easier as people group around who and what resonates for them.

The issue of sustainability in lockdown is a big one in terms of the very detrimental affect it will have on us as individuals and our collective health and wellbeing. The parallels again to new parenting come in to play, and personal strategies I employ are daily meditation, alongside the recommended online classes and our one walk a day. I suppose a raised awareness all-round of what we need as human beings rather than human doings is one thing that I hope endures.

In terms of parenting and work, it has exposed the truth that working from home flexibly can absolutely work - Anna Whitehouse (@mother_pukka) has been championing this for quite some time. I think that hopefully, the potential for more companies adapting to this approach once we come out of the pandemic to support working parents could be a long term positive.
I think the immediate action of pivoting online is a must for theatre, and the arts has been essential at this time, and has certainly made some content more accessible where it may not have been so easy to get before - i.e. company classes being streamed that you wouldn't be able to access unless you were a paid member of the company. Streamed performances are great too to ensure there is a way of getting our culture fix.
However, nothing beats the real thing, and I think we have to buckle-up and dig deep for the time ahead as what we have known before in terms of live audience work in a real-life performance space is going to be vastly limited. Being the hyper-creative beings we are, I'm sure that there will be some truly inspiring work that will emerge to continue to bring hope and contemplation for us all."